The Advantages of Modular Wiring Systems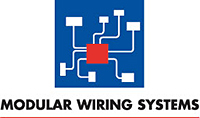 MWS is well-known for its reliability, flexibility and excellent customer service.
Therefore, in this article we are going to list and explain the main features, advantages and disadvantages to better understand the potential of MWS.
Advantages of modular wiring systems:
Modular wiring is a rapid and easily installed modular sub-circuit distribution system

very simple to design

and

prefabricated off-site

. Furthermore, given the fact that the complete system is manufactured off site in a factory controlled environment, it is possible to eliminate the potential risks of on site conditions.

Keeps Ceiling Voids to a Minimum

: Home run cables, which contain up to nine circuits, are no greater than 30mm in diameter, while extender cables 13mm and MDB's are just 80mm deep.

Reduced labour

is needed in order to fit a system as most of the work is done off- site. Therefore, a modular wiring system minimises on site labour requirements by up to 75%. Consequently, it is possible to deliver products directly to the working area.
MWS is a

BASEC

approved company and our quality system is certified to the demanding requirements of ISO 9001:2008.
High level of

quality control

in the factory: All products are continuously tested throughout all the manufacturing process. It is important to consider that Modular Wiring Systems Ltd is the only modular wiring systems manufacturer that has complete manufacturing control of the product, from the raw copper to the finished product. As a result, testing and fault finding are minimised on site due to factory testing.
The system is normally

colour coded

, hence it couldn't be simpler to work out what plugs in to where.
There is no wastage, due to off site fabrication and also health and safety conditions are improved.
MWS is concerned about our environment: all of its products are

100% recyclable.

The MDB drums are also reusable.
These systems can be used in very

wide range of environments

, namely commercial, Healthcare, educational, leisure, residential and retail environments.

High speed of installations

: a modular system can be installed up to 70% quicker than traditional methods utilising less labour, ultimately easing project management and design.
No screw connections are employed within the system on the basis that connections are generally where faults occur. The internal wiring of the system comprises of crimped connections and is therefore deemed to be

maintenance free

during the life of the installation.
A modular system should give customers

25 years of trouble free life

.

Flexibility

: many contractors make the assumption that as a modular wiring system is pre fabricated off site it will have no, or limited, flexibility. This is not true. As modular systems are made up of easy plugs and sockets instead of hard wiring, it's actually easier to make changes to the system by simply unplugging the connections without much skill required rather than traditional systems. Without the hard wiring to undo and re do, it's also much quicker.

Easy reconfiguration

: It is possible to reconfigure the system easily at a later date, without any disruption and inconvenience of hard wiring. This is especially useful in retail, where displays and shop layouts change on a regular basis.

Disadvantages of modular wiring systems:
To sum up, modular wiring systems are the perfect solution to avoid intensive labour, little or limited flexibility and high costs.
Indeed, it is not a coincidence that it supplies its products to the major contractors including Phoenix, SES, Bancroft, T Clarke to mention just a few. MWS are always considered on all major projects such as The Shard and The Cheesegrater.
---
For more information, please contact Modular Wiring Systems on 01246 858000 or This e-mail address is being protected from spambots. You need JavaScript enabled to view it